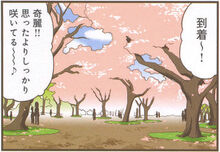 Uguisu Park (うぐいす公園 Uguisu Kōen) is a public park within walking distance of Hidamari Apartments. The Hidamari residents visit to have a picnic with Sae and Hiro before they move out. It is a popular destination for cherry blossom viewing and can get quite crowded during peak season.
Ad blocker interference detected!
Wikia is a free-to-use site that makes money from advertising. We have a modified experience for viewers using ad blockers

Wikia is not accessible if you've made further modifications. Remove the custom ad blocker rule(s) and the page will load as expected.