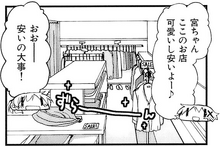 TAM*P is a clothing store located in Kakinodai. Yuno and the other Hidamari residents take Miyako there to find her new clothes. Its selection is described as "cute and inexpensive."
It is surrounded by a few other clothing stores, one of which is Baby Land.
By Miyako's judgment, TAM*P's shopping bags are very durable and of high quality.
N/A