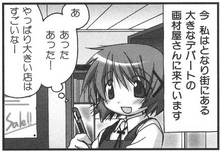 Sekaiya (世界屋) is an art supplies store located within a department store in a town next to Asagi-chō. As a larger store, it offers a wider selection of materials than local shops. It is frequented by Yamabuki art students.
Many types of paper are available for sale such as muse cotton, Watson, and mermaid. It also boasts an impressive variety of paintbrushes, including hog bristle, sable, and Siberian squirrel. Sae and Hiro go there to stock up on gouache.
It is likely a parody of Sekaido, a chain of art supplies stores in Japan.
Ad blocker interference detected!
Wikia is a free-to-use site that makes money from advertising. We have a modified experience for viewers using ad blockers

Wikia is not accessible if you've made further modifications. Remove the custom ad blocker rule(s) and the page will load as expected.