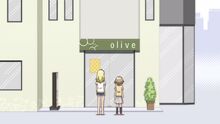 Olive (オリーブ) is a beauty salon in front of the station near Hidamari Apartments. It is run by twin sisters who named the business based on their family name, Oribe. Hiro and Sae are regular customers. Hiro passed on some 50% off coupons to Yuno and Miyako after the latter accidentally burned her hair while cooking. Their exceptional treatment left Miyako's hair shiny and silky.
AppearancesEdit
In Progress
N/A
Ad blocker interference detected!
Wikia is a free-to-use site that makes money from advertising. We have a modified experience for viewers using ad blockers

Wikia is not accessible if you've made further modifications. Remove the custom ad blocker rule(s) and the page will load as expected.