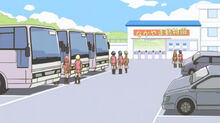 Nakayama Zoo (なかやま動物園 Nakayama Dōbutsuen) is a zoo in the Hidamari Sketch universe. Yoshinoya took her students on a field trip to this zoo in A Round Cabbage. It can be reached from Yamabuki High School by bus.
Animals found at the zoo include elephants, monkeys, tapirs, lions, and hippopotamuses. There are also marine exhibits at which Sae encountered a very friendly manatee.
Despite the name, it has absolutely no relation whatsoever to Yuno's classmate Nakayama.
AppearancesEdit
In Progress
Ad blocker interference detected!
Wikia is a free-to-use site that makes money from advertising. We have a modified experience for viewers using ad blockers

Wikia is not accessible if you've made further modifications. Remove the custom ad blocker rule(s) and the page will load as expected.