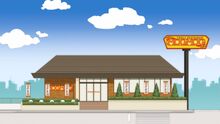 MogMog is a family restaurant that opened near Yamabuki High School on June 11th. It is only a one minute walk from the nearest station. The Hidamari Apartments residents, Natsume and her friends, and Yoshinoya and Kuwahara visit on its grand opening day. The Landlady is an acquaintance of the owner and works there part-time. Its staff wears pink maid uniforms and it is open every day of the year from 7:30 AM to 3:00 AM with a few exceptions for holidays.
Inside, there is a salad bar and a deluxe drink bar that offers many types of coffee, tea, juice and soda. With a coupon, a person can have unlimited refills at the drink bar for 100 yen.
Demiglace Salisbury steak (880 yen)
Meat sauce spaghetti
Spaghetti vongole
Macaroni gratin (800 yen)
Seafood doria (820 yen)
Salad udon (720 yen)
Demiglace rice omelette (800 yen)
MogMog steak meal
Yogurt sundae
Its name comes from the onomatopoeia mogumogu, which represents the sound of chewing.
Ad blocker interference detected!
Wikia is a free-to-use site that makes money from advertising. We have a modified experience for viewers using ad blockers

Wikia is not accessible if you've made further modifications. Remove the custom ad blocker rule(s) and the page will load as expected.