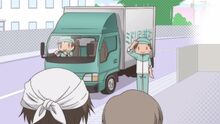 Midori City (緑市 Midori-shi) is the fictional city in which most events of Hidamari Sketch are assumed to take place. It is located in the Kanto region of Japan, presumably in the suburbs of Tokyo and Yokohama. One of its subdivisions is Asagi-chō, where Yamabuki High School and the Hidamari Apartments are located.
It is Nazuna's home city. Midori Movers is the moving company that moves her belongings into Hidamari Apartments.
It bears no relation to Midori, Gunma.
Many fictional cities mentioned in Hidamari Sketch are named after colors. Midori means "green."
An on-screen TV graphic seen in a cherry blossom viewing report watched by Yuno and Miyako suggests Midori City is located in Kanagawa Prefecture.
In accordance with this, its name may come from Midori-ku, a subdivision of Yokohama.
Ad blocker interference detected!
Wikia is a free-to-use site that makes money from advertising. We have a modified experience for viewers using ad blockers

Wikia is not accessible if you've made further modifications. Remove the custom ad blocker rule(s) and the page will load as expected.