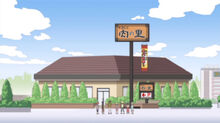 Meat Village (肉の里 Niku no Sato) is a yakiniku restaurant in the Hidamari Sketch universe. The Landlady treats the Hidamari Apartments residents here after receiving a bonus from one of her part-time jobs. Its all-you-can eat course costs 3000 yen per person, with a time limit of 100 minutes. Any food left on the plate is charged.
In addition to grilled meat, the buffet includes sushi, salad, cake, pudding, and ice cream. There are a variety of drinks available including soda, Calpis, and beer.
The Landlady forces the apartment residents to a play a game of sushi roulette, in which one piece of sushi is secretly packed with spicy wasabi. The unlucky loser turns out to be the Landlady herself.
N/A
Ad blocker interference detected!
Wikia is a free-to-use site that makes money from advertising. We have a modified experience for viewers using ad blockers

Wikia is not accessible if you've made further modifications. Remove the custom ad blocker rule(s) and the page will load as expected.