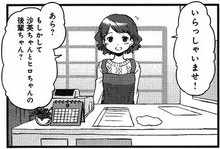 Mashiro Cleaning (ましろクリーニング) is a dry cleaner in front of the station near Hidamari Apartments. Not many of its customers are students, but Hiro was one of them.
After Hiro moves out of the apartments, Yuno takes on the responsibility of gathering everyone's uniforms and bringing them to the cleaners. The clerk correctly guesses that Yuno and Miyako are friends of Sae and Hiro and asks them to return a bag of nutritional supplements Hiro had left in her uniform pocket. After their visit, they receive a membership card for their patronage, which Miyako mistakes for a frequent flier miles card.
Mashiro means "pure white," fitting for the type of business it is.
Nazuna's mother used to take her here and the clerk would give her candy each time.