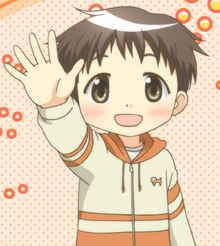 Kento Yoshinoya (吉野屋健人 Yoshinoya Kento) is the son of Yoshinoya's younger brother, making him her nephew. He seems around the age to have just started elementary school.
He is the second of only two characters in the entire series to have both a given and family name known, the other being Maiko Kishi.
Ad blocker interference detected!
Wikia is a free-to-use site that makes money from advertising. We have a modified experience for viewers using ad blockers

Wikia is not accessible if you've made further modifications. Remove the custom ad blocker rule(s) and the page will load as expected.