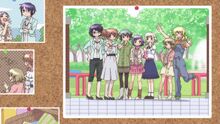 Kawasemi Park (カワセミ公園 Kawasemi Kōen) is a public park accessible from the Hidamari Apartments by bus. It encompasses Lake Kawasemi, where visitors can traverse the lake in rental boats. The Hidamari residents spend a day there with Chika, although their trip is only described through conversation later that day and not depicted "live."
Kawasemi means kingfisher, which Hiro says the park is full of. Uguisu Park is also named after a type of bird, the Japanese bush warbler.
Ad blocker interference detected!
Wikia is a free-to-use site that makes money from advertising. We have a modified experience for viewers using ad blockers

Wikia is not accessible if you've made further modifications. Remove the custom ad blocker rule(s) and the page will load as expected.