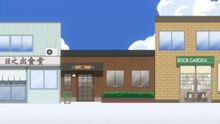 Kakinodai (柿の台) is a neighboring town of Asagi-chō. It is within walking distance of Hidamari Apartments and can also be accessed by train.
Places in Kakinodai
Edit
Many fictional cities mentioned in Hidamari Sketch are named after colors. Kaki means Japanese persimmon and when used as part of the word kakiiro, indicates a light vermillion like the fruit itself.
References to Kakinodai were omitted in the Yen Press translation of volume five.