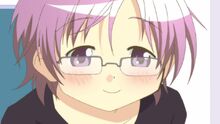 Ikezawa (池澤) is an art teacher at Yamabuki High School. She teaches the Planes elective. In one lesson she asks the class to sketch a nude model, who to everyone's surprise, is an older woman.
She has collaborated with Yoshinoya on several art pieces, although it takes a while for them to come to an agreement on a theme to build their work around.
She is self-conscious about remaining unmarried at her age. She is kept company by her small chihuahua-like dog named Tetsuya.
Ad blocker interference detected!
Wikia is a free-to-use site that makes money from advertising. We have a modified experience for viewers using ad blockers

Wikia is not accessible if you've made further modifications. Remove the custom ad blocker rule(s) and the page will load as expected.