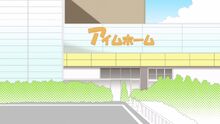 I'm Home (アイムホーム) is a home improvement superstore located within walking distance of Hidamari Apartments. Nori goes there in search of new curtains long enough to fit her apartment window.
According to Nazuna they sell frying pans, trash bags, shelves, screws, planters, and gnomes, among other things. They also sell construction helmets, power tools, stationery, towels, fabric softener, and daily necessities.
One of its frequent customers is a tall, mustachioed blond man whom Miyako presumes to be named Townie (ジモティー Jimotī) because of his European looks which she relates to the Italian-sounding word.
AppearancesEdit
Ad blocker interference detected!
Wikia is a free-to-use site that makes money from advertising. We have a modified experience for viewers using ad blockers

Wikia is not accessible if you've made further modifications. Remove the custom ad blocker rule(s) and the page will load as expected.