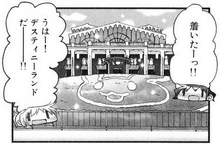 Destiny Land (デスティニーランド) is an amusement park in the Hidamari Sketch universe. It is a parody of Tokyo DisneySea. Its mascot is a rabbit named Tiny (ティーニー Tīnī).
The entrance is elaborately decorated and there is even a castle. At night, a parade of carriages adorned with festive lights passes through.
The Hidamari Apartments residents went here during their summer vacation. Yoshinoya has also been to the park, although she claims she was "studying."
Attractions
Edit
Starlight Ride
Arcade
Tiny's Restaurant
Jungle expedition boat ride
Space Jet Go
The mascot's name comes from the "tiny" in destiny. However, it is pronounced more like "Teeny."
Ad blocker interference detected!
Wikia is a free-to-use site that makes money from advertising. We have a modified experience for viewers using ad blockers

Wikia is not accessible if you've made further modifications. Remove the custom ad blocker rule(s) and the page will load as expected.