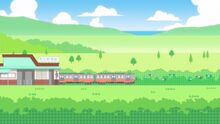 Chōkokunohara (彫刻野原) is a train station in the Hidamari Sketch universe. It is a parody of Chokōkunomori. The Hidamari Apartments residents take a day trip here to view art exhibits.
The Hatone Open-Air MuseumEdit
Near the station is the Hatone Open-Air Museum, a parody of the Hakone Open-Air Museum. It features many outdoor sculpture exhibits, a few indoor ones, and a cafeteria. The museum is popular with visitors from around the world.
Many parodies can be seen in SHAFT's version of the station's sign:
Ad blocker interference detected!
Wikia is a free-to-use site that makes money from advertising. We have a modified experience for viewers using ad blockers

Wikia is not accessible if you've made further modifications. Remove the custom ad blocker rule(s) and the page will load as expected.