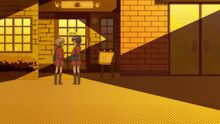 Cafe Maple is a cafe located in Kakinodai, next to Book Garden. Sae frequently visits to meet with her editor Naoi, and one time accidentally ran into Natsume and her friends. Espressos and coffee blends are among the items on their menu.
A female cat named Maple lives in the cafe and was confused for a cushion by Yuno.
N/A
Ad blocker interference detected!
Wikia is a free-to-use site that makes money from advertising. We have a modified experience for viewers using ad blockers

Wikia is not accessible if you've made further modifications. Remove the custom ad blocker rule(s) and the page will load as expected.