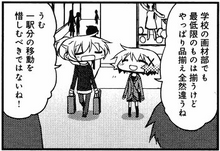 Aobano (青葉野) is a city in the Hidamari Sketch universe. It is located one train stop away from Asagi-chō.
It is home to a large department store with an art supplies store, presumably Sekaiya.
Sucre is a cake shop in Aobano known for its delicious roll cakes. It is a five minute walk from the station's south exit. Matsuri is looking for it when she runs into Yuno and Miyako. According to her, the pâtissier has a thick beard.
Many fictional cities mentioned in Hidamari Sketch are named after colors. Aoba means "green leaves," fitting with its proximity to asagi and midori.
Ad blocker interference detected!
Wikia is a free-to-use site that makes money from advertising. We have a modified experience for viewers using ad blockers

Wikia is not accessible if you've made further modifications. Remove the custom ad blocker rule(s) and the page will load as expected.